COVID-19: A Silver Lining for Homeless Pets? How Friends of Strays Plans to Keep its Kennels Clear 
Monday, June 15, 2020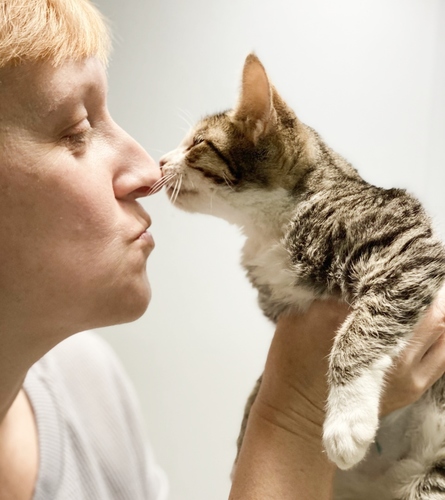 Is entering an animal shelter always the best option for a homeless pet? Friends of Strays, like many shelters across the county, has seen our kennels clear as a result of COVID-19. With so many working from home, we've seen our community step up to foster and adopt at unprecedented rates; and for the first time ever, the demand for shelter pets is greater than the supply. This got our staff thinking -- what programs can we implement to make an empty shelter the new normal, even in post-COVID times?
There will always be animals in need of sheltering, but for many, there are better, more appropriate measures that serve the animals, community, and shelter. For this reason, while Friends of Strays was closed during the COVID-19 pandemic, we made operational changes geared towards what the animal welfare community calls "intake diversion", or keeping homeless pets, or pets that are about to be homeless, out of shelters. Our hope is that new programs Safer At Home, Kitten Heroes, Home To Home, and Adoptions Through Foster will lead to permanently reduced populations for all of Pinellas County's shelters.
Safer At Home:

Friends of Strays' new

Safer At Home

Fund is a resource for our community members facing financial hardships that provides them with an alternative to surrendering their animal to a shelter. We have partnered with local businesses and are distributing vouchers for free veterinary care and pet supplies at no cost to Saint Petersburg residents to help them through their times of need.
Kitten Heroes:

The Kitten Heroes Program is a partnership between Friends of Strays Animal Shelter and the caregivers of community cats, working together to keep underage kittens out of crowded shelters and rescues. Instead, we help empower caregivers to adopt kittens into loving homes after completion of spay/neuter surgeries and vaccines! Friends of Strays loans out traps and necessary supplies to catch and house cats and kittens safely. We then provide spay/neuter surgeries, vaccinations, and deworming services for FREE for the kittens and Mom, once the kittens weigh 2 lbs.
Home To Home:

Unfortunately, there are circumstances that make it impossible for someone to keep their pets, so

Friends of Strays has teamed up with Home To Home -- a direct-to-adopter program for pet owners looking to rehome their animals. In just a few simple steps, pets can find a loving new home all while bypassing the shelter system. Those who are no longer able to care for their animals complete an online pet profile and upload photos. Once approved by the Friends of Strays staff, the profile will be published on the Home To Home page of our website as well as our Facebook page. If someone is interested in a pet on the Home To Home page, they can directly reach out to the owner and the two parties can privately work through the rehoming process. It's free to use for both owners and adopters, and gives animals needing a new home the best of both worlds: their current owner can find the best fit, and their adopter can learn all about their personality and preferences first-hand.
Adoptions Through Foster:

We are expanding our foster program to incorporate adoptions directly from foster care. This means that some animals will never have to spend a night at the shelter. Foster parents provide animals with enrichment that shelter staff cannot replicate and

increase their visibility throughout the community. They also give us invaluable insight into an animal's personality outside of a kennel environment which leads to dogs getting adopted quicker with a lower rate of return.
"The question of when we can return to normal comes up frequently as we continue to navigate the COVID-19 pandemic," says Friends of Strays CEO, Dara Eckart. "While the desire to return to normal is completely understandable, it's not something we necessarily want in animal welfare. With the onset of COVID-19, we've had to pivot from our existing operating procedures and our community has shown us they're ready for a change. They've demonstrated this by overwhelmingly offering to foster, donating to our Safer At Home Fund in record amounts, and staying engaged with us throughout this pandemic. We need to meet people and pets where they are. We need to learn how to be mobile, agile, and remote in order to deliver programs and services in different ways. The animal welfare movement has largely outgrown itself and we're ready to pivot."
The old model of sheltering revolves around a building that exists to house animals until they move on to the next phase of their lives. We're now moving away from that hub and spoke model to create more of a network where we create resources for animals, but they don't have to come through our doors to receive them. Alternatives to intake can provide humane, lasting solutions that empower community members as well as freeing shelter capacity to better serve the animals truly in need of admission. We're excited to see the impact these changes have on our community's homeless animal population in the near future.