Community Cats
Community cat? What's that?
A community cat is an unowned, free-roaming cat who lives outdoors. Some are undersocialized with humans and steer clear of interaction; others can be social with humans. We use the term community cat because it encompasses all outdoor cats.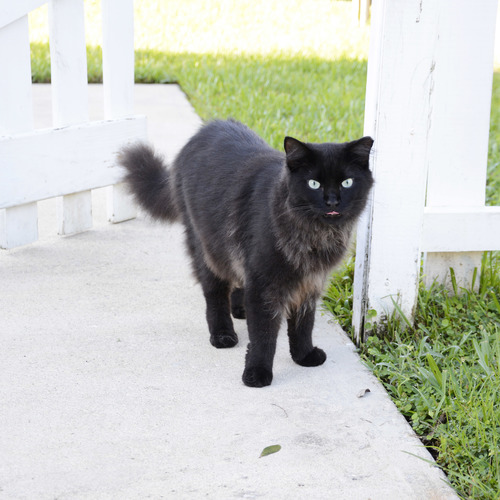 Some community cats live together in what's called a colony. Others prefer the single lifestyle and roam alone.

A community cat is not someone's pet: owned cats are not allowed to roam outside, per Pinellas County code. If you have a pet cat, please keep them indoors.
What can be done for community cats?
Free-roaming cats can live happily right where they are. Many people choose to be caregivers; they feed and monitor these felines. If left unchecked, community cats will multiply. However, just removing the cats often does not solve the problem as more cats will move into the neighborhood. The best and most humane solution to reduce the community cat population is through a practice called Trap-Neuter-Vaccinate-Return.

What is TNVR?
Trap-Neuter-Vaccinate-Return is the internationally accepted humane choice to reduce free-roaming cat populations. Cats are trapped, taken to a partnering vet or shelter, spayed/neutered, vaccinated for rabies, ear-tipped, and then returned to their communities where they can continue living a happy, healthier life in the environment they thrive in. The ear-tip is the humane removal of the tip of one ear, which is a universal sign that a cat has been neutered or spayed. TNVR reduces unwanted behavior like marking, fighting, and yowling.

What does Pinellas County say about TNVR and outdoor cats?

Pinellas County has regulations surrounding TNVR practices and community cats. You can read more about it here or refer to the county code, section 14-36 and 14-37. Owned cats are not allowed to roam outside, per county code. If you have a pet cat, please keep them indoors.

Want to learn more?
FAQs about Community Cats

Seven Ways to Help Community Cats Thrive

Solutions to Common Community Cat Issues

Community Cats and Coyotes Tips and Resources
Friends of Strays is here for community cats!
Want to get involved in our initiatives to humanely reduce community cat populations? We have two programs aimed at TNVR.
Pinellas Cats Alive!: This program is public-lead with no appointment needed; if you have a community cat or two you'd like to take through TNVR, you can trap them yourself and bring them to us for their surgery and vaccination. For hours, trap rentals and more, click here.
MEOW Now!: This program works with caregivers of community cat colonies to help them strategically TNVR the entire colony. Our MEOW Now program staff and volunteers will assist with trapping and/or transport by appointment only. To learn more and request help, click here.
Other resources:
Veterinary resources:
Friends of Strays does not have a public, full-service vet program available. After a cat has gone through TNVR, you will need to seek help from a full-service vet for any further medical needs. Here are area offices that will treat community cats:

The Animal Health Care Clinic
727-446-5501
2118 Drew Street
Clearwater, FL 33765
https://animalhealthcareclinic.com/
Harmony Vet Care
813-871-0850
5420 Webb Rd, C2
Tampa, FL 33615
http://harmonyvetcare.org
Thrive Pet Healthcare – Tampa Bay Vet Specialists Emergency Care
1501 Belcher Rd S
Largo, Florida 33771
(727) 531-5752
https://www.thrivepetcare.com/locations/florida/largo/tampa-bay-veterinary-specialists-emergency-center
Other TNVR programs:

If our programs are not the right fit for your community cat situation, there are several other organizations throughout Pinellas County with similar goals.
Animal Coalition of Tampa (ACT)
Low Cost Spay/Neuter, Vaccines, Minor Health Issues, appointments required
(813) 250-3900
1719 West Lemon St.
Tampa, FL 33606
actampa.org
Cat Trap Fever
TNVR and Adoptions
[email protected]
727-504-2343
https://www.facebook.com/cattrapfever

Operation:SNIP
Low Cost Spay/Neuter and Vaccine Clinic, appointments required
727-595-1983
13489 Walsingham Rd
Largo, FL 33774
http://operationsnipfl.org
SPOT
Low Cost Spay/Neuter Clinic, Vaccine Clinics, appointment required
727-329-8657
4403 62nd Ave
Pinellas Park, FL 33781
http://www.spotusa.org