Don't Kit-Nap Kittens
Found Kittens
When we find a litter of kittens, our good-hearted instincts tell us to jump in and help. Please don't! Thankfully, human intervention is typically not required. In fact, the best thing you can do is leave the kittens alone. Mom will likely return shortly, and it's critical that the kittens remain in her care as she offers the best chance for survival. If you are extremely certain that the kittens are orphaned, you can then step in and help by caring for the kittens until they're old enough to find homes.
This graphic will help you determine what steps to take if you've found kittens. You can also download this flyer to share.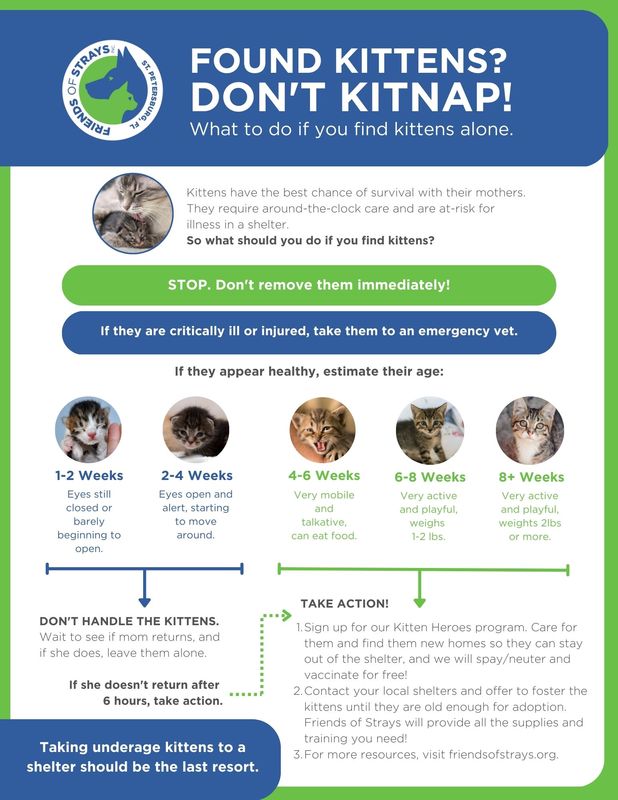 Kitten Season is actually three in one, because female cats will average 3-4 litters a year. The season begins in early spring and ends in late fall. And here in the "Sunshine State" our kitten season runs even longer than most! Shelters cannot take in all the kittens born in Pinellas County. There is simply not enough time, manpower or resources. Also – the best place for kittens is with their mothers.
So – what should you do if you find a nest of kittens?
Here are four ways you can help:

1. Ask: "Where is your mother?" Our first instinct as humans is "jump to the rescue!" In this case, don't. Chances are a mama cat is nearby, watching and waiting for you to leave. Mother cats need to leave the nest to find food. Sometimes, they will move their kittens one by one to a more secure location.

If the kittens are not in immediate danger from traffic, construction, rain, or other circumstances, step back and watch from a distance. Give mom a few hours to return. If it has been a few hours and mom is not back, consider her gone.

2. House Hunters: Feline Edition If the mother cat does not return and the kittens do need to be removed from the area, be prepared to see the project through to the end. Below you can find foster resources as well as spay/neuter assistance.

If the kittens can eat wet food, then will soon be ready for new homes. Make a plan to get the kittens spayed or neutered. Cats can be altered when they reach 2 lbs (generally around 8 weeks) and there are several low-cost options in our area. It's a good idea to do this sooner rather than later; cats can reproduce at just four months of age!

If the kittens cannot eat on their own, please review our at-home resources below. Babies of this age will not fare well in a shelter and their best chance at survival is to be in a home. Remember – warm first, then feed.

3. What if mama cat comes back? You have two choices:

A. If the mother cat does return and is friendly, slowly gain her trust, then transport her and the kittens to a safe location indoors. Keep the family in a warm, dry place and away from other pets. If you cannot temporarily foster, ask your friends, family, and neighbors. You never know who is willing to help!

B. If the mother cat returns but is not friendly, begin by providing food and water. Make sure you clean up the area when you are done, and do not leave out more food than necessary. (If this happens on property that does not belong to you, check with the property owner first.) When the kittens are old enough to be separated from mom (about 5-6 weeks) you can then trap, spay and release the mother cat. Then, you can foster the kittens until they are old enough to be altered and adopted. The mother cat will then return to her area and live as a community cat.

4. Ask and Offer Help If you bring kittens to a shelter, the organization will need to find a foster parent and during this time of year, and that is not always possible. You can be that foster parent! Foster parenting begins by giving kittens a warm and safe place to thrive – perhaps in a spare bathroom, screened in porch, or a large dog crate. Keep the kittens well fed. If they can't figure out how to eat at first, mix warm water with wet food to make "mush" – kittens love it! Spend lots of time cuddling your kittens so they learn to love humans – it's a tough job, but someone has to do the cuddling.

At Friends of Strays, we will provide you with support if you are willing to take the kittens home and care for them. Here are a few ways we offer support:
Kitten Hero Program: A partnership between Friends of Strays Animal Shelter and the caregivers of community cats, working together to keep underage kittens out of our crowded shelters and rescues. Instead, we help empower caregivers to adopt kittens into loving homes after completion of spay/neuter surgeries and vaccines. Join today!
Heroes keep kittens OUT of shelters. For help caring with your kitten, please use our resource library below.
Spay Neuter Assistance:
The American Veterinary Medical Association advocates that all cats be fixed by no later than five months. The following local organizations can provide free or low-cost spay/neuter for cats.
Animal Coalition of Tampa (ACT)
Low Cost Spay/Neuter, Vaccines, Minor Health Issues
(813) 250-3900
1719 West Lemon St.
Tampa, FL 33606
http://actampa.org
Harmony Vet Care
Low Cost, Full-Service Clinic, Open Weekends
813-871-0850
5420 Webb Rd, C2
Tampa, FL 33615
Pet Pal Animal Clinic
Low Cost Spay/Neuter Clinic, Full Vet Services, Walk in Vaccine Clinics
727-328-7729
1900 34th Street South (U.S.19)
St. Petersburg, FL 33711
http://petpalanimalclinic.com
Operation:SNIP
Low Cost Spay/Neuter Clinic, Walk in Vaccine Clinics
727-595-1983
13489 Walsingham Rd
Largo, FL 33774
http://operationsnipfl.org
SPOT
Low Cost Spay/Neuter Clinic, Walk in Vaccine Clinics
727-329-8657
4403 62nd Ave
Pinellas Park, FL 33781
http://www.spotusa.org
At-Home Kitten Care