Pick Your Price During the Month of July!
Saturday, June 29, 2019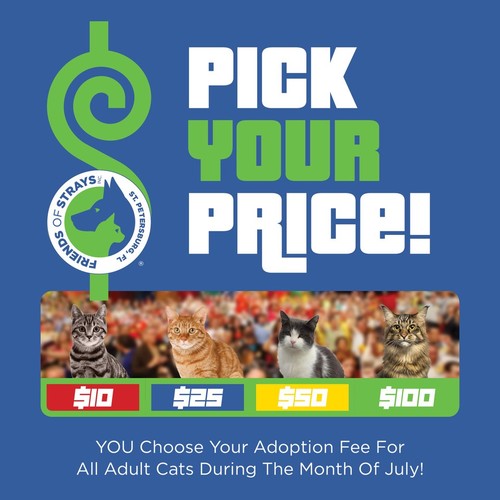 Hurry down the to the shelter! During the entire month of July, adopters will be able to name their own adoption fee at Friends of Strays! This special will apply to all cats 1 year and older. Whether someone wants to donate $1 or $1,000, they are welcome to adopt an adult cat and provide them with the love and kindness they all deserve.
"We hope this adoption special will help some of our longer-term residents find their forever homes," says Friends of Strays CEO, Dara Eckart. "First and foremost, the goal for this month of fee-waived adult cats is to find loving families for as many of our homeless animals as possible. Additionally, we want to bring community members of all income levels through our doors. We believe that everyone should have the opportunity to enjoy the benefits of pet ownership and hopefully those who have been turned off by adoption fees can now have that chance."
Our normal adoption fees for adult cats range from $25-$50. At Friends of Strays, adoption fees cover just a small percentage of our animals' spay/neuter surgeries, microchip implants, vaccinations, and daily care. At this time those looking to adopt a dog or kitten will still have to pay the full adoption fee.