Brody's Retirement to South Pasadena
Monday, March 29, 2021
More than 1 million dogs in the United States have heartworm disease, a potentially fatal condition, at any given time. This April, in honor of Heartworm Awareness Month, we're excited to follow up on a story about how Brody's heartworm diagnosis saved his life - along with countless more dogs who are following in his footsteps.
Former South Pasadena Mayor Dan Calabria met his friend Bill Grom when both men joined the same cardiac rehabilitation group following their heart attacks. The two frequently bonded over their love of animals, so when Dan was ready to open his heart to another dog in need after the death of his beloved dog Bo, Bill was the first person he told. Dan was in luck because at the time, Bill served on the Friends of Strays Board of Directors. The very next day, Dan adopted Brody, a handsome senior dog with heartworm disease - a cardiac condition over which the two could bond.
Heartworm disease is a devastating disease that starts with a single mosquito bite and results in foot-long worms (heartworms) that live in the heart, lungs and associated blood vessels of affected pets, causing severe lung disease, heart failure and damage to other organs in the body. It's a highly treatable disease, yet treatment is costly and can therefore lead to in euthanasia at many shelters.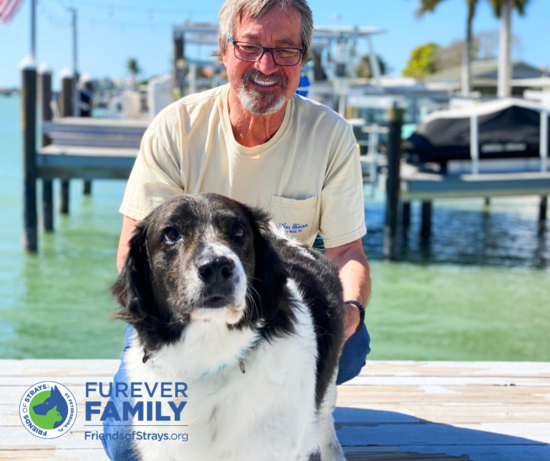 When Dan passed away in the fall of 2020, Bill and the rest of the cardiac rehab group at Palms of Pasadena wanted to honor their good friend. Cardiac patients saving heartworm positive dogs like Brody - it was the perfect fit! And so was born the Dan Calabria Heart to Heart Fund to support the treatment of heartworm positive dogs at Friends of Strays!
Friends of Strays is in the vast minority of shelters that covers 100% of the treatment cost for all of our dogs with heartworm disease, a line item that cost the shelter more than $12,000 for 38 dogs in 2020. The Dan Calabria Heart to Heart Fund collects donations to offset that cost and give us the means to save more of Pinellas County's most at-risk pets. Since the start of 2021, the Fund has provided lifesaving heartworm treatment to 14 Friends of Strays dogs.
In honor of Heartworm Awareness Month, the Friends of Strays staff decided to pay Brody a visit. After Dan's passing, Brody moved into his nextdoor neighbors Michel and Dolores' lovely cottage overlooking the Gulf. Brody, now heartworm free, excitedly greeted us at the front door, tail wagging and insisting belly on rubs.
Throughout our entire conversation with Michel, Brody paraded from person to person, soaking up all the attention we could offer. "Sorry for all the dog hair," Michel apologized, "We now have to vacuum at least once a day. But what a small price to pay for such an amazing dog." Michel doesn't think Brody had spent much time in a home before Dan adopted him, noting his hesitation around normal household items, but boy oh boy is he living the good life now. Brody joined us on a tour of his home, showing off his many toys and multiple Tempur-pedic dog beds. His favorite part seemed to be the walk we took to the end of Michel and Dolores' dock, where Brody found a nice spot in the sun to relax and observe the pelicans while the humans continued to chat. Michel is smitten with the new addition to his family, "I mean look at him. He's just so good!", he must've repeated half a dozen times. Safe to say, Brody is enjoying his retirement in South Pasadena.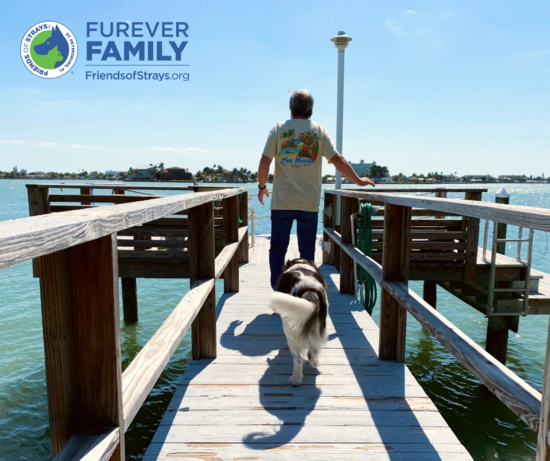 To donate to the Dan Calabria Heart to Heart Fund for heartworm positive dogs, click here and select "Heart to Heart Fund" from the dropdown menu

We are grateful to Dan, Bill, Michel, and Dolores for being valued members of the Friends of Strays Furever Family and their efforts to save Brody and give dogs like him a second chance.