David Vargas, State Farm Agent, Partners with FOS
Monday, February 10, 2020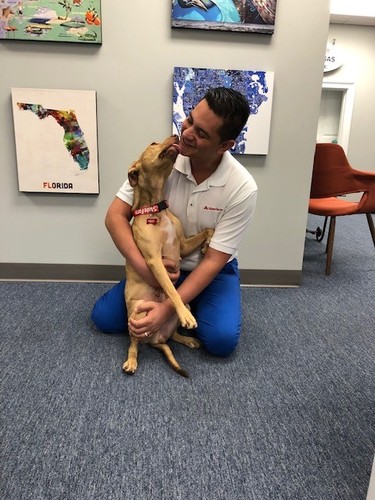 Friends of Strays Animal Shelter has partnered up with local State Farm Agent, David Vargas, for his Quotes for Good initiative. In Quotes for Good, whenever a community member contacts David for a free, no-obligation quote and mentions Friends of Strays, David donates $10 to our organization. Since the inception of this collaboration in June of 2019, David has given more than $1,500 to help our homeless animals.
One specific animal whom David's donations have saved is a beautiful dog named Zena. Zena had heartworm disease when she arrived at Friends of Strays, which is a serious and potentially fatal condition spread by infected mosquitoes. Luckily it's treatable, but it takes upwards of six months for the infection to clear and costs hundreds of dollars. Not only did David provide financial assistance for Zena's treatment, but Zena was adopted by David's account manager, Jill. Now Zena gets to go to work with her mom every single day at David's office and has even taken on the very important roles of official Quotes for Good Ambassador and Office Greeter!
"This has been an incredibly symbiotic relationship between State Farm and Friends of Strays," says Friends of Strays CEO, Dara Eckart. "We are so thankful to have David as a partner in saving lives. Not only does he help us financially through his Quotes for Good Program, but he's volunteered for our organization and has sponsored our past events. David is a trusted insurance agent in our community and an even better man. We look forward to working with him for a long time to come."
When choosing an insurance partner, Friends of Strays was very careful to select one which aligns with our mission -- and State Farm made that very easy. They are one of very few national agencies that do not discriminate based on dog breed, meaning your homeowners rate will not be affected based on the type of dog you have. These types of breed restrictions, which are not supported by evidence, can be detrimental to both pet owners and animal shelters. They can make it difficult for families to keep pets in the home and result in more animals being surrendered to shelters.
Getting involved is easy. Help our animals by stopping by David's office or giving him a call. It's that simple. His contact information can be found on his website.