Friends of Strays Awards Community Foundation Of Tampa Bay Grant To Sue Rountree For TNVR Services
Tuesday, June 1, 2021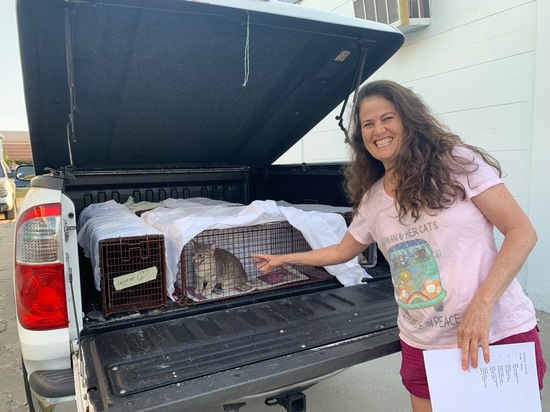 Friends of Strays Animal Shelter was delighted this Spring to receive a generous grant from the Community Foundation of Tampa Bay that provided funding for the spay or neuter procedures for 104 community cats.
The grant was funded by a donor that provided the money on the basis that it be used to help avoid euthanasia of healthy animals. The Community Foundation of Tampa Bay reached out to Friends of Strays because that resonates with our mission as St. Petersburg's oldest no-kill animal shelter.
We graciously accepted the funds and knew exactly where they should be directed. Through our in-house veterinarian, Dr. Katie Emerson, Friends of Strays has a strong working relationship with an animal savior named Sue Rountree.
Sue has a passion for saving cats' lives while controlling community cat populations through humane TNVR (trap, neuter, vaccinate, return) services. She has been actively assisting cats for the last 12 years and helps about 1,000 cats per year on average.
What Sue does isn't easy. She fields calls every day from people with unclaimed cats in their neighborhood. As a full-time paralegal , she traps a few cats on her way to work three or four days a week. She brings those cats to places like Friends of Strays to have their alterations and vaccinations, then picks them up to return back to their original location on the way home.
"The reason I am obsessed with spay/neuter of cats is simply to reduce the euthanasia rate at the county shelter while trying to bring an end to the suffering of cats living on the street," Sue said. "TNVR is the most effective method of making this happen!"
Widely recognized as the most humane way to control community cat populations in the long term, TNVR is already showing positive results in the areas Sue visits. Where she used to pick up cats in locations with large colonies of them, sometimes fitting up to 20 trapped cats in her truck, she now traps just two or three cats at a time. That's a good thing for the community, but it makes Sue's work harder and less efficient.
For a one-woman operation, it's a grind and it can be quite costly. She collects donations to put toward the medical costs, but mostly operates out of her own pocket. That's why we knew Sue would be the perfect recipient for these funds. Through the graciousness of the Community Foundation of Tampa Bay, we're proud to support Sue Rountree's work.