Congrats, Elaine on 5 Years with Friends of Strays!
Tuesday, July 23, 2019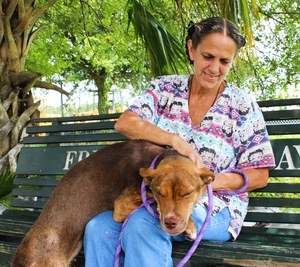 Animal care staffer Elaine Tapp just celebrated her 5 year anniversary with Friends of Strays. It's a safe bet that our entire staff would agree, with a strong degree of certainty, that no single individual has had a more profound impact on our animals' lives than Elaine. Her job is physically and mentally demanding, yet after half a decade, her passion has not wavered one bit. It's not uncommon to find her alone in one of our cat or dog rooms, telling the animals how loved they are and what makes each of them uniquely special. Or she'll be out in our dog yard, playing tag, tug-of-war, or squeaking a toy with a happy pup. Our animals come into contact with dozens of people between staff, volunteers, and visitors during their temporary stay at Friends of Strays, but very rarely do they have a connection deeper with anyone than that they share with Elaine. Don't believe us? Just ask the animals themselves. We love when our alumni come back to visit us. They'll say hello to the adoptions counselors, animal care staff, and medical team that cared for them for an entire chapter of their lives, but when Elaine comes to say hello nobody else matters. Even dogs who were adopted years ago cannot contain their excitement when they hear her voice. They'll let out piercing high-pitched squeals, wag their tails so hard they almost fall off, and drown Elaine with aggressive kisses all over her face. Every. Single. Time. Elaine embodies what every animal shelter employee should be: compassionate, committed, and wholly dedicated to the wellbeing of those who cannot help themselves. We are so lucky to have her on our team. Congratulations on reaching this milestone, Elaine! Here's to the next 5 years!