Petco Love Invests in Lifesaving Work of Friends of Strays
Tuesday, April 20, 2021
Friends of Strays Animal Shelter announced today a $7,500 grant investment from the newly named, Petco Love, to support their lifesaving work for animals in Pinellas County. Friends of Strays will use these funds to host a free vaccine and microchip clinic for 350 dogs in collaboration with the St. Petersburg Free Clinic.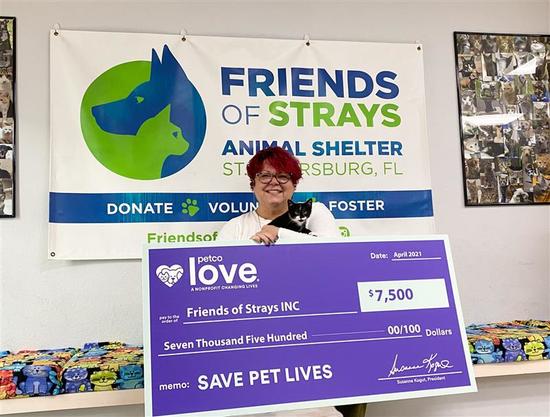 Petco Love is a nonprofit leading change for pets nationally by harnessing the power of love to make communities and pet families closer, stronger, and healthier. Since their founding in 1999 as the Petco Foundation, they've empowered organizations with nearly $300 million invested to date in adoption and other lifesaving efforts. And, they've helped find loving homes for more than 6.5 million pets in partnership with Petco and more than 4,000 organizations, like ours, nationwide.
"Today Petco Love announces an investment in Friends of Strays and hundreds of other organizations as part of our commitment to create a future in which no pet is unnecessarily euthanized," said Susanne Kogut, President of Petco Love. "Our local investments are only one component. This month, we will also launch the first of our national tools to empower all animal lovers to drive lifesaving change right alongside us."
"We are honored to receive these funds from Petco Love and are eager to put them to good use," says Friends of Strays CEO, Dara Eckart. "Friends of Strays looks forward to expanding our partnership with the St. Pete Free Clinic in offering life saving vaccines and microchips to their clientele. It's been a tough year for us all, and we hope to alleviate some stress for our community members by providing critical veterinary care that their dogs may not otherwise receive."
Friends of Strays will announce the date of the clinic in the coming weeks. Dogs will receive core vaccines, including rabies, along with a microchip, collar, and ID tag to help them find their way home in the event they get lost.
Friends of Strays' partnership with the St. Petersburg Free Clinic began in 2019. Since then, it has donated more than 75,000 pounds of pet food to Pinellas County's underserved residents.