Friends of Strays Gifted $60,000 from Milkey Family Foundation
Friday, September 11, 2020
Friends of Strays Animal Shelter is thrilled to have received a gift of $60,000 from the Milkey Family Foundation. In addition to a $10,000 donation earlier this summer to support general operating expenses, we've just received a $50,000 grant which will be invested in our new life saving programs designed to offer a second chance at life for those pets without one, as well as help our community's struggling families keep their pets where they belong: at home.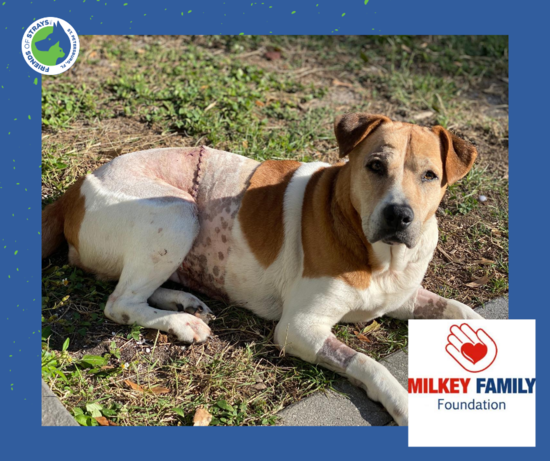 Friends of Strays plans to allocate this grant to four of our new programs and initiatives: Safer At Home Fund, No Dog Left Behind Fund, improving our foster program, and a community vaccine clinic.
Safer At Home Fund:

Provides struggling families throughout Pinellas County with free vouchers for pet supplies, including pet food and flea prevention, as well as lifesaving veterinary care.
No Dog Left Behind Fund: Provides resources for dogs who would have otherwise been turned away because they need

additional time, training, or veterinary care before they can be adopted.
Foster Program:

To help offset the costs of hiring and training a new Foster Coordinator. This will allow us to place dogs who particularly struggle in a shelter environment directly into a loving foster home, so they can be adopted without ever having to step foot in a kennel.
Community Vaccine Clinic:

Free vaccine and microchip clinic at Daystar Life Center, a South Saint Petersburg social services nonprofit that assists low-income residents.
"As St. Petersburg's oldest no kill shelter, Friends of Strays wants to be at the forefront of this pandemic's fallout for animals," says Friends of Strays CEO, Dara Eckart. "We want to help keep animals in their homes and, if a family cannot keep their pet, we want to provide them with better options and avoid the possibility of having a beloved pet needlessly euthanized due to a lack of space or time. 2020 has brought unprecedented challenges to us all, but the outpouring of generosity from Kevin and Jeanne Milkey is inspiring. We offer them our sincerest thanks and cannot wait to put their gift to work!"
Kevin and Jeanne Milkey established the Milkey Family Foundation in 2015. It is a 501(c)(3) nonprofit that supports local charities in the St. Petersburg area. The Foundation supports a wide range of charitable causes including but not limited to Human Services, Disaster Relief, Medical Research, Environmental Stewardship, Arts & Culture, and Animal Services.