Home for the Paw-lidays: All Adoption Fees Waived at Friends of Strays for the Rest of the Year!
Friday, December 18, 2020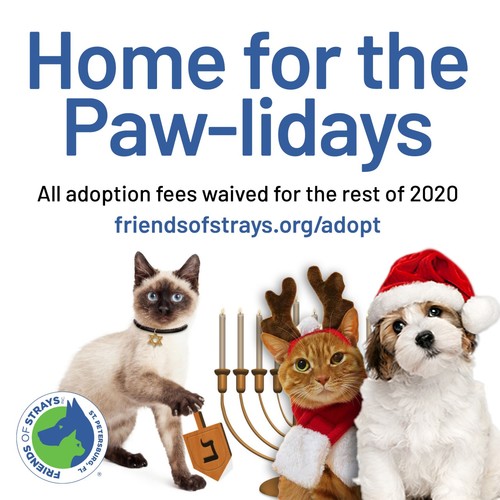 Amidst the holiday season, Friends of Strays is thrilled to announce that all pets will have their adoption fees waived for the remainder of 2020 in our "Home for the Paw-lidays" adoption promotion! Those interested in adopting will only need an approved application to bring home a new furry family member. Appointments are not needed; visitors may simply come to our adoption center any time during open hours to visit with our available animals. Masks are required while inside and staff will be limiting the number of people inside our facility at any given time.
All pets at Friends of Strays are spayed/neutered, vaccinated, and microchipped prior to being adopted. All of Friends of Strays' adoptable animals, as well as adoption center hours, can be viewed on our website.
"First and foremost, the goal for this adoption special is to find as many animals as possible a home for the holidays," says Friends of Strays CEO, Dara Eckart. "This is the most popular time of year to get a new pet, and we hope that by waiving adoption fees people will be motivated to save the life of an animal in need rather than buy from a breeder or pet store. Additionally, we want to bring community members of all income levels through our doors. We believe that everyone should have the opportunity to enjoy the benefits of pet ownership and hopefully those who have been hesitant to adopt because of adoption fees can now have that chance."
Demonstrated by similar specials Friends of Strays has had in the past, a direct correlation exists between reduced or waived adoption fees and the number of animals placed into permanent homes; and we expect nothing different this time around. Normal adoption fees for animals range from $25-$300 at Friends of Strays, covering just a small percentage of each animal's medical and daily care.