Empty Shelters, Full Houses
Monday, January 18, 2021
Minnie spent her 12 years in and out of the shelter system. A baby on the way, moving to an apartment that doesn't allow pets, her dislike of most other dogs - whatever the reason, no adoption seemed to stick and Minnie found herself back at the shelter through no fault of her own. When she arrived at Friends of Strays, we were determined to change her luck.
Understandably, Minnie had grown weary of shelter life. The more time she spent in a kennel, the more depressed and anxious she became, causing
her behavior to worsen. We knew she'd be a fantastic dog once she got into a home environment, but the stress of kennel life was getting the best of her. Minnie has cancer and we're not sure how much time she has left, but the status quo was not an option. She
needed out.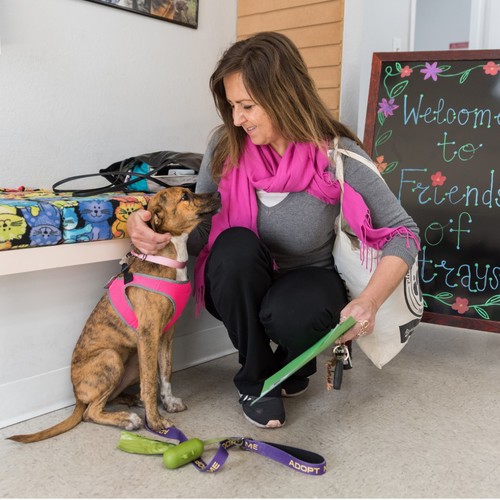 Then Gabriela came to the rescue. Gabriela joined the Friends of Strays Family earlier in the year when she became the very first participant in our Pawjama Party program. For those who don't remember - we teamed up with Arizona State University and Maddie's Fund to send 45 different dogs on two-night sleepovers - dubbed Pawjama Parties. Friends of Strays was one of 100 shelters across the country that collected data to help researchers understand how shelter dogs respond to short-term foster environments.
The Pawjama Parties showed us that foster programs of any length help reduce stress for shelter dogs. They provide them with enrichment and increase their visibility throughout the community. Additionally, foster programs give shelter staff invaluable insight into a dog's personality outside of a kennel environment. They lead to dogs getting adopted quicker and with a lower rate of return.
Gabriela enjoyed her Pawjama Party with Pinto the puppy so much that she stayed in regular contact with our staff, letting us know she was available whenever we had a dog in need of a getaway. So, we sent Minnie on a foster respite to Gabriela's house. All of a sudden, Minnie was thriving.
"
Minnie is doing great. Right now she's on the edge of her seat watching the election clinging to her Milk Bone! She is so easy when it comes to swallowing her medication thanks to the Pill Pockets. Last night my young nephew came to visit her. She snuggled up beside him while he watched TV. She's a sweetheart as always.
"
Gabriela fell in love with Minnie and decided to extend the respite until she found her forever family, so Minnie would never have to spend another night in a kennel. Gabriela helped her recover from surgery to remove a cancerous growth. She coordinated meet-and-greets with potential adopters. And she showered Minnie with the love and patience she's been lacking the past 12 years.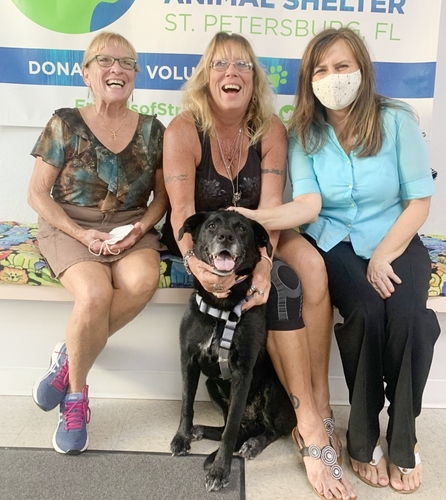 On November 25th, Minnie got her day. Marybeth and Joy met her at Gabriela's house and knew she was meant to join their family. They weren't discouraged by her messy past or uncertain prognosis; their love was instant and unconditional. The day before Thanksgiving, Minnie was finally home.
"
Minnie is such a good dog and she is settling in very nicely
," says Joy. "
She brings much joy to our household, and it's so good to have a dog again. She goes on a three mile walk every morning with Mary Beth, and then I am on the evening duty. It's not as long as a walk, but she seems to be happy with it. Gabriela is coming over to visit with us tomorrow afternoon. Minnie even has a Christmas stocking that's being hung on the mantle
."
Minnie's story is just one of many reasons why we heavily invested in our foster program. It helps reduce overcrowding in the shelter and opens up space for another animal to be saved. But foster care isn't just about quantity; it's also about improving the quality of an animal's life while they await adoption. It gives them a chance to live in a home where they can fully express their personality, work to overcome fears, or recover from trauma. And with people working remotely and staying home due to the pandemic, 2020 was the perfect year to launch a robust foster program.
Friends of Strays hired a full time Foster Coordinator over the summer - someone who's time is fully invested in liaising with existing foster parents, recruiting new ones, and creating innovative ways to improve the program. Since her hire in August, Crystal has worked diligently to engage with 276 different foster families and send 418 animals to foster care, all of whom are now in their forever homes. Crystal spearheaded a new "Foster Superhero" campaign, to symbolize exactly how important our foster families are to the Friends of Strays mission. Foster families are now given yard signs to promote their adoptable animal. Throughout the shelter, you can now see foster report cards and foster information boards, so adopters can gather insight into an animal's home behavior when making that important decision of which pet to bring home. And new initiatives like our Foster Facebook page, where foster parents can see available animals in real time and ask questions to our entire foster community with almost instant responses, have proven to be popular resources. Crystal has also implemented a foster-to-adopt option, so adopters who are on the fence can try fostering a pet first to see if it's the right match.
Amidst the pandemic, foster care has become the gold standard of animal sheltering. The animals benefit from being in a home environment, it allows shelter staff to reallocate their time to other areas of need, and it engages the community, bringing them in as part of the solution to ending needless euthanasia. It gives everyone the chance to take ownership in saving a life and making a difference for a homeless animal. We have exciting plans to further expand the program in 2021, and we can't wait to see the impact it has on our community