FOS Teams Up With Max's Mercantile To Help Heartworm Dogs
Monday, September 23, 2019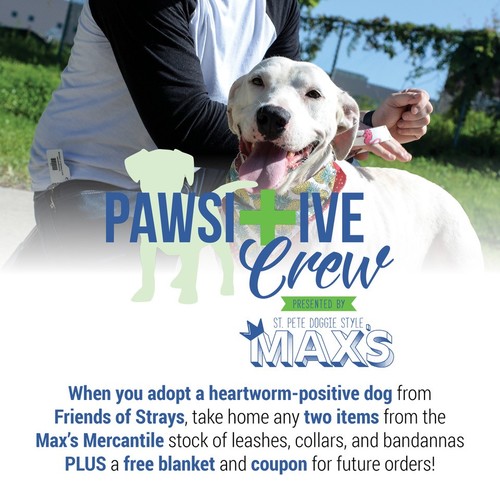 We are SO excited to announce that we've teamed up with Max's Mercantile St Pete to start the Paws-itive Crew for Heartworm Dogs at Friends of Strays!
When you adopt a Heartworm-positive dog from Friends of Strays, you'll get to take home any two items from the Max's Mercantile stock of leashes, collars, and bandannas PLUS a free blanket and coupon for future orders!
Max's Mercantile is a one-of-a-kind shop specializing in dog accessories. They offer slip on collar bandannas, unique leashes to match, & even collars! EVERYTHING they do is handmade and designed by their founder Christopher. He puts his heart into every stitch, and his love into every sale!
A diagnosis of heartworm infection does not mean a dog can't be adopted--in fact, adoption can be life-saving.
Here's what owners need to know:
What is heartworm disease and how do dogs get it?
Heartworm disease is a serious disease spread by infected mosquitoes that is estimated to affect more than one million dogs, cats and ferrets in the U.S. The incidence of heartworm disease in shelter dogs is thought to be higher than in other dogs because stray and surrendered pets are less likely to have received prior veterinary care or to have been on routine heartworm prevention. Meanwhile, natural disasters like hurricanes -- which occur in areas of the country where heartworm rates are already high -- can lead to increased numbers of heartworm-positive pets needing adoption when flooding and pet displacement drive up infection numbers.
Not every aspiring pet owner is equipped to provide the extra care a special-needs pet requires; however, with proper treatment, heartworm-positive pets can be excellent candidates for adoption. The American Heartworm Society (AHS) advises prospective adopters to obtain important information from veterinarians and shelter personnel when considering this step. Key points are understanding how heartworm infection is spread, how treatment works and what kind of care owners will be required to give dogs undergoing treatment.
What to know when adopting a heartworm-positive dog:
• Dogs with heartworm disease can be successfully treated and go on to live normal lives. However, treatment must be initiated as soon as possible to minimize permanent damage to the dog's heart and arteries.
• A dog with heartworm disease cannot directly infect another pet. Nevertheless, an infected, untreated dog can become a source of infection to other pets if it is bitten by a mosquito, so prompt treatment is needed.
• Heartworm treatment requires months of therapy and multiple medications administered under a veterinarian's care. Heartworm treatment can also be costly. Some shelters are able to cover all or some of these costs prior to adoption, while others can't afford to do so. Dogs undergoing treatment also need to be kept on cage rest to minimize treatment complications.
• Dogs can become re-infected if they're not protected. The AHS recommends year-round heartworm prevention to all pets, as well as annual testing. Fortunately, heartworm prevention is affordable, effective and safe.
For more information on understanding heartworm disease in dogs, visit heartwormsociety.org.
While heartworm disease is a serious medical condition, compassionate owners who are willing to invest the necessary care and resources in treatment can enable heartworm-positive dogs to live full and happy lives.