Friends of Strays Resumes Doggy Day Out After 6 Month Hiatus
Monday, October 5, 2020
After a 6 month pause due to COVID-19, Friends of Strays' exceedingly popular Doggy Day Out program is set to resume Monday, October 5th. Doggy Day Out pairs members of the community with friendly shelter dogs for field trips. Outings can last from an hour to all day, and can include a walk in the park, a trip to the beach, or even an outdoor lunch at a pet-friendly restaurant. Doggy Day Out is a unique program that allows everyone to enjoy the benefits of pet ownership while doing something great for a shelter animal.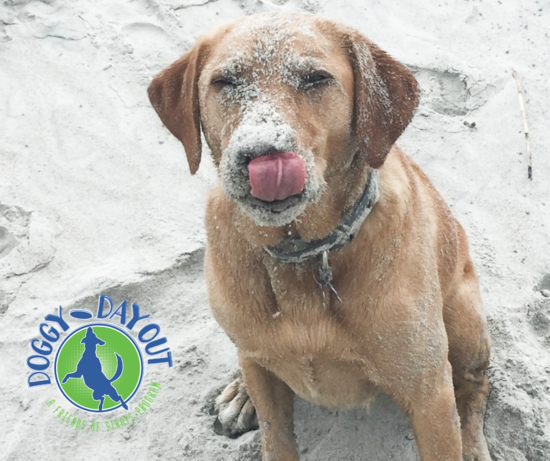 This time around there will be one major difference, however. For the foreseeable future, Doggy Day Out will run by appointment only as a precaution to limit the number of people inside our facility. Those interested in participating will need to visit the Doggy Day Out website and fill out an online questionnaire. There, they will be asked when they would like to participate and what activities they plan to do. The Friends of Strays staff will then contact the participants to schedule a time for them to pick up their dog. Doggy Day Out is open to anyone over 18 years of age.
When volunteers pick up their shelter dog for their field trip, the Friends of Strays staff will provide them with a list of dog-friendly activities they can experience together. The vast majority of locations are outdoors to ensure participants have safe options to enjoy during COVID-19.
"We're so excited to bring Doggy Day Out back to the Saint Petersburg community," says Friends of Strays CEO, Dara Eckart. "Now is such an important time to support our community's small businesses, and this program incentivizes people to do just that. Doggy Day Out is sponsored by our city's restaurants, breweries, coffee shops, and more -- and there's no better way to safely back them than with an adoptable shelter dog. Whether you're just visiting St. Pete, living in a place that doesn't allow pets, considering adding a dog to your family, or just want to have a fun adventure with one of our dogs, Doggy Day Out is a way for everyone to experience the joy of a canine companion."
Doggy Day Out began in May, 2019 and over 300 volunteers have since participated. It was originally created in order to help reduce kennel stress and provide Friends of Strays' dogs with enrichment and increased visibility. Outings also give shelter staff valuable insight on how the dogs behave in new environments, which helps our adoptions counselors match families with the dog best suited for them. Plus, it's a great excuse to spend a day exploring Saint Petersburg while doing something nice for a shelter dog!