Ray Jay's Miraculous Recovery
Thursday, February 6, 2020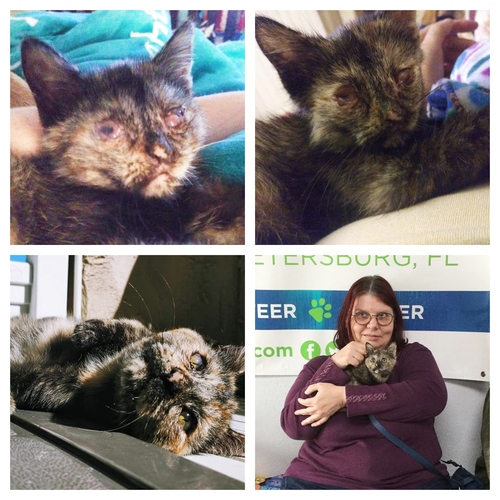 In early December, a Raymond James employee found a 5-week old kitten laying in her front yard. At first glance, the kitten appeared to be dead, but upon picking her up, this Good Samaritan realized the kitten was still fighting to hang on. She reached out to our volunteer coordinator, Victoria, and as soon as she saw the pictures Victoria knew the kitten was in dire need of help. Victoria picked up the kitten, appropriately named her Ray Jay, and brought her to Friends of Strays to be examined by our medical team. Ray Jay had a severe upper respiratory infection, her eyes were so swollen she couldn't open them, and she was extremely dehydrated and malnourished. One more night in the cold would have done her in.
Ray Jay went into foster care with a Friends of Strays staffer who has an ICU chamber at her home for neonatal kittens. She spent the next week and a half in the chamber getting oxygen, nebulization, and eye care every 4 hours. Her recovery was going well; she started to breathe on her own and was getting anxious for some love and attention. The next fight, however, was to save her eyes. They were still in rough shape and we all thought she was sure to permanently lose her sight. Fast forward through many more weeks of eye drops every 4 hours, cleanings, and lots of antibiotics -- the infection started to heal and her beautiful, green eyes emerged. Now Ray Jay can see just fine. She's a spunky little girl, full of personality. She loves to play, cuddle, and she never let any of her hardships get her down. Last week, Ray Jay found her forever home with a mom who loves her to pieces and three kitty siblings. She'll spend her days surrounded with constant companionship and love, just like all pets deserve.
To help us save more animals like Ray Jay, please consider donating to our medical fund here.