Taylor Morrison Raises $4,000 To Help Friends Of Strays Keep Pets With Families
Thursday, September 10, 2020
Taylor Morrison, the nation's fifth largest homebuilder and developer, has donated $4,500 to support Friends of Strays' Safer At Home Fund. Safer At Home is a resource for Pinellas County residents facing financial hardship, which is designed to offer an alternative to surrendering their beloved pet to a shelter by providing vouchers for free veterinary care and pet supplies. The benefits of this program are two-fold: community members get the support they need to care for their animals, which eases the burden on Pinellas County's shelter system by keeping animals with their owners.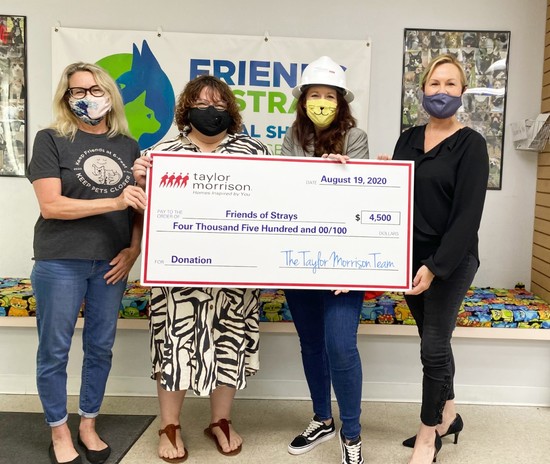 Taylor Morrison's Tampa Division chose Friends of Strays as its Q2 charity recipient. They raised the funds via peer to peer fundraising, a method in which supporters and clients fundraise on behalf of the beneficiary by reaching out to individual connections, and social networks. In addition to the $4,500 raised, Taylor Morrison employees contributed in-kind donations from the shelter's wish list, such as pet food, toys and enrichment activities for the animals, and cleaning supplies.
"At Taylor Morrison, we know that pets are part of the family", said Douglas Miller, Tampa Division President at Taylor Morrison. "During this difficult time, our team came together and rallied to support the Friends of Strays' Safer at Home campaign. It is truly our honor to be able to support the community we love, and to help those experiencing financial hardship keep their pets at home."
Those struggling to provide for their pets can fill out a brief questionnaire on the Friends of Strays website. Once received, a Friends of Strays staff member will mail vouchers to recipients that can be redeemed at the program's partner locations:
Operation: SNIP: 13489 Walsingham Rd, Largo, FL 33774
SPOT: Spay & Neuter: 4403 62nd Ave, Pinellas Park, FL 33781
Pet Food Warehouse: 1830 61st Ave N, St Petersburg, FL 33714
Park Feed Store & Pet Supply: 5775 Park Blvd, Pinellas Park, FL 33781
Pet Supplies Plus - Pinellas Park: 7331 Park Blvd, Pinellas Park, FL 33781
Pet Supplies Plus - Clearwater: 1500 N McMullen Booth Rd, Clearwater, FL 33759
Vouchers for the following goods and services are distributed based on individual need and location:
Spay/neuter surgery
Core vaccines
Annual veterinary exams
Dewormer
Cat and dog food
Cat litter
Flea and tick preventative
Safer At Home was originally intended to provide financial assistance to St. Petersburg residents who lost their primary source of income due to COVID-19, but due to unexpected community support, Friends of Strays opened the program to all Pinellas County residents in need. On May 5, for Giving Tuesday Now, the shelter's supporters donated $16,270 to start the Fund -- a single day online fundraising record for the organization. Friends of Strays contributed an additional $10,000, and combined with the support of others, most notably Taylor Morrison, the Fund is equipped to help hundreds of Pinellas County families struggling to provide for their pets.