FOS Receives $5,000 Grant from BISSELL Pet Foundation
Tuesday, February 16, 2021
Friends of Strays (FOS) is proud to announce it has been awarded a $5,000 grant from BISSELL Pet Foundation (BPF) for spay and neuter procedures. FOS hopes to address overcrowding in shelters and rescues by preventing unwanted litters of kittens in Pinellas County.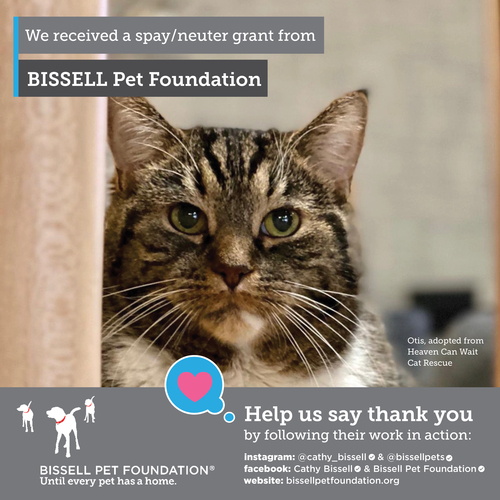 "BISSELL Pet Foundation is proud to announce its spring grant cycle will award $413,510 in spay/neuter funding to 69 animal welfare organizations across 28 states," said Cathy Bissell, Founder of BISSELL Pet Foundation. "We've seen the impact spay/neuter makes in shelters and the communities they reside. With this funding, 14,740 pets will be impacted to prevent further homelessness across the country."
Friends of Strays will use this grant to offer 200 free trap-neuter-vaccinate-return (TNVR) procedures to MEOW Now and other local rescue partners. TNVR reduces community cat populations through the proven practice of humanely trapping, spaying or neutering, vaccinating, ear tipping, and then returning the feral or free-roaming community cats to their place of origin. Because they can no longer breed, the number of cats is reduced naturally over time and nuisance behaviors such as spraying and yowling are typically reduced immediately and eliminated completely only a month after surgery. TNVR has been shown to be the least costly, most effective, and most humane way to stabilize free-roaming cat populations. Successful TNVR involves a volunteer colony caretaker who provides food and adequate shelter, and monitors the cats' health.
For more on Friends of Strays' TNVR programming, visit our website.
"We are honored to receive these funds from BISSELL Pet Foundation and are eager to put them to good use," says Friends of Strays CEO, Dara Eckart. "Managing our community cat population is a high priority for Friends of Strays in 2021; and by offering 200 free TNVR procedures, our rescue partners can reallocate their funds to save the lives of hundreds more cats. Combined with our new Pinellas Cats Alive! Program, we hope this grant will help turn Pinellas into a no kill county once and for all."
With a mission to find every pet a home, BPF focuses their efforts on adoption, spay/neuter, microchipping, and emergency support.