TNVR
Friends of Strays Community Cat Program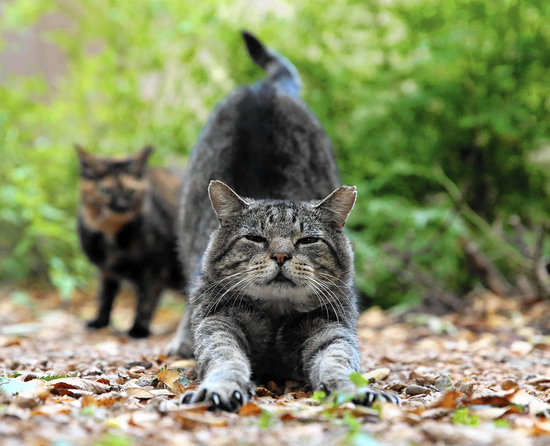 Community cats, sometimes called free-roaming or feral cats, are common in Pinellas County. In order to work towards a no-kill Pinellas County, we work with community caregivers to get these cats spayed/neutered and returned to the location at which they were found.

Trap-Neuter-Vaccinate-Return (TNVR) is the internationally proven practice of humanely trapping, spaying/neutering, vaccinating, then returning (to their colonies) feral or free roaming community cats. Successful TNVR involves a volunteer colony caretaker who provides food and adequate shelter, and monitors the cats' health. TNVR has been shown to be the least costly, most efficient and most humane way to stabilize cat populations.
TNVR Services available for $25
Spay/Neuter surgery

3-year Rabies vaccine

FVRCP Vaccine

Basic deworming


Flea and tick prevention

Ear tip (the international symbol that a cat has been sterilized and vaccinated)
Program Hours and Information
TNVR surgeries can be booked by emailing

[email protected]

or by calling 727-522-6566, ext 101. Surgeries will be accepted by appointment only. Surgeries can be scheduled on Mondays, Tuesdays, Thursdays, or Fridays.

We will NOT accept TNVR walk-ins. We must be given at least 24 hours notice that you are attempting to trap a cat, and we must respond to confirm your appointment.

Pick-up times will be provided at drop off, but are generally between 3-5:30pm on the same day of surgery. Cats cannot stay overnight at the shelter.

Cats must be in traps. No exceptions. No carriers, crates, boxes, etc.

Even friendly cats must be in traps. Approved traps include Tru Catch, Havahart, and Tomahawk humane traps. Cats that are not in traps will NOT be accepted for surgery.

Traps may be rented in advance from Friends of Strays. We require a $75 deposit per trap, which will be refunded when the trap is returned to us. They are available for pickup 7 days per week from 8am-6pm. Advance notice is not needed.
On the date of the surgery appointment, cats must be dropped off at Friends of Strays Animal Shelter between 8-8:30am. Any cats that arrive after 9am will be rescheduled for another day.
If you would like any additional services (ie flea prevention, microchip, FeLV vaccine, etc), please contact our medical staff prior to the appointment, or at time of drop off.
Frequently Asked Questions about Community Cats and TNVR: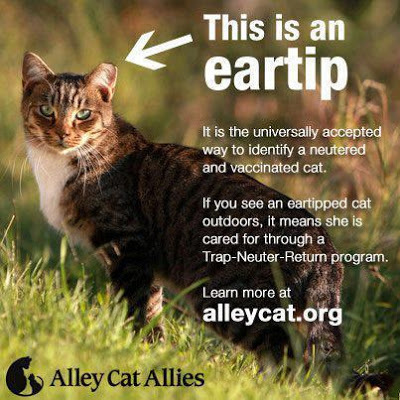 What is the difference between a community cat and a pet cat? Pet cats are animals who are socialized with humans. They traditionally have an a caretaker and live indoors, outdoor, or a combination of the two. Community cats, or feral cats, are unsocialized cats and are free-roaming outdoor cats. They often live in a colony with other community cats and have one or more caretakers who feed them.
It is important to remember that many cats have homes and are indoor/outdoor cats. The shelter is not the best place for these animals – less than 1% of cats are ever reclaimed by their caregivers after entering a shelter system nationwide. If you see a cat, please speak to your neighbors. Chances are the cat lives nearby. The best way to help a cat you find outdoors is to get them spayed or neutered.
How can I tell if a cat is a community cat or if it has been spayed/neutered? Look for a missing tip on the cat's ear. The "eartip" is a universal sign that a cat has been altered. It can be either ear. It is the humane removal of the tip of a cat's ear to indicate is has been spayed or neutered.
How can I help community cats? The best thing you can do for a community cat is get him or her fixed via a Trap Neuter Vaccinate Return program. After the cat is fixed, you can continue feeding on a regular basis. We strongly recommend speaking to property owners before you begin feeding a community cat.
How do I trap a cat? Alley Cat Allies has great tips for trapping.
Learn more about community cats: