Spring Break Campers Join Friends of Strays' Furever Family
Tuesday, March 23, 2021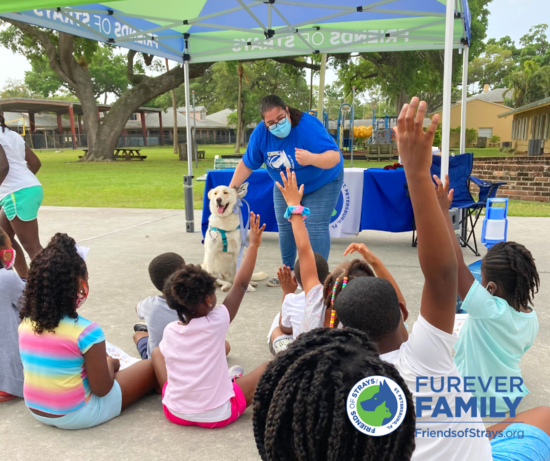 Friends of Strays Animal Shelter welcomed children from the James B. Sanderlin Neighborhood Family Center into its Furever Family. On March 18, Friends of Strays Shelter Director Mari Salls had the privilege of engaging with the participants of the Sanderlin Center's Spring Break Camp on the topic of responsible pet ownership. With the help of her canine assistants Sky and Butters, the children learned about dog body language, the appropriate way to approach a dog, proper gear with which to outfit a dog, the importance of a microchip and identification, and more.

"We are thankful for the hospitality of the staff of the Sanderlin Center," says Friends of Strays Shelter Director, Mari Salls. "These children are the future leaders of our community and it's important they learn about our relationship with animals at a young age. Many kids are innately drawn to the world of animals and are therefore highly engaged in learning about them; and this situation was no different. All the kids at the Sanderlin Center were polite, enthusiastic, and came prepared with thought provoking questions; plus they loved getting to reward Sky and Butters with treats for good behavior! We look forward to coming back soon and an ongoing partnership with the Sanderlin Center."
Teaching children about the human bond with animals is the perfect vehicle for them to practice social and emotional skills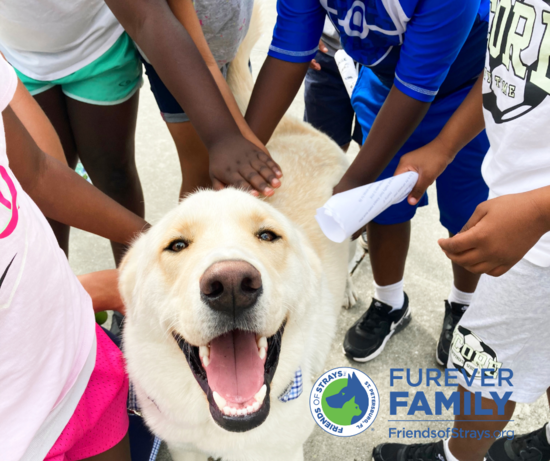 that will benefit them throughout life. "The kids loved the hands-on presentation!" says Sanderlin Center Executive Director, Celeste Thomas, Ed. D. "Friends of Strays made learning fun while teaching the kids to care for animals. Who could ask for more?" Anyone who has ever observed a pet and attended to their needs, whether it be food, a bathroom break, or play time, knows how animals can provide an opportunity to develop empathy and the responsibility of caring for another being.


The James B. Sanderlin Neighborhood Family Center is a non-profit agency in St. Petersburg that focuses on family, education, arts, economics/employment, positive values, and health & wellness. Its mission is to cultivate a community where children and families are valued, loved, and destined to succeed. The Spring Break Camp is open to kids between 3rd-8th grades. They also offer after-school and summer programs for children, as well as resources for adults including education programs, employability programs, enrichment programs, and family support.
The #FOSFureverFamily is a group of animal lovers who wants a better world for pets and the people who love them. Help us grow the #FOSFureverFamily by telling us how you, or someone you know, is making a difference in our community by emailing [email protected] so we can share your story!