Home for the Paw-lidays: FOS Waives Adoption Fees on Cats for Remainder of 2019
Tuesday, October 22, 2019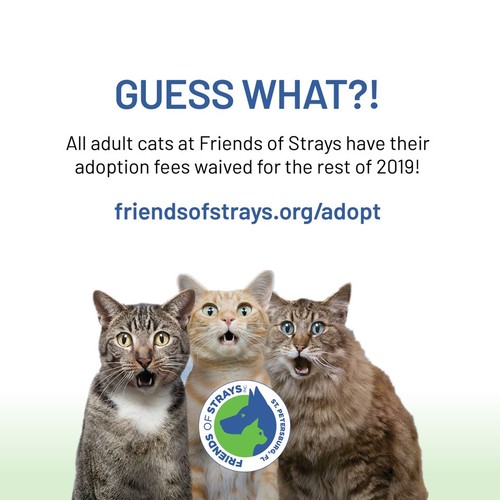 As we enter the holiday season, Friends of Strays is thrilled to announce that all adult cats will have their adoption fees waived for the remainder of 2019 in our "Home for the Pawlidays" adoption promotion. Thanks to a grant from Maddie's Fund, Friends of Strays will be sending cats one year and older off to their forever homes at no expense to their adopters for the rest of the calendar year.
"First and foremost, the goal for this adoption special is to find as many animals as possible a home for the holidays," says Friends of Strays CEO, Dara Eckart. "We hope that by waiving adoption fees on adult cats, people will be motivated to save the life of an animal in need rather than buy from a breeder or pet store. Additionally, we want to bring community members of all income levels through our doors. We believe that everyone should have the opportunity to enjoy the benefits of pet ownership and hopefully those who have been hesitant to adopt because of adoption fees can now have that chance."
Demonstrated by similar specials Friends of Strays has had in the past, a direct correlation exists between reduced or waived adoption fees and the number of animals placed into permanent homes; and we expect nothing different this time around. Normal adoption fees for adult cats range from $25-$50 at Friends of Strays, covering just a small percentage of each animal's medical and daily care.
At this time, those looking to adopt a dog or kitten will still have to pay an adoption fee. If you cannot adopt, consider getting involved by volunteering, fostering, or donating as well as ensuring that all owned pets are spayed or neutered and up-to-date on vaccinations. To view Friends of Strays' adoptable animals, as well as our adoption center hours, please click here .