No Dog Left Behind Fund Established at Friends of Strays Will Help Pinellas County's Most At-Risk Dogs
Wednesday, July 22, 2020
Friends of Strays' longtime supporter Barbara Stakk has given Pinellas County's most at-risk dogs, and those who love them, ample reason to celebrate.
The newly established No Dog Left Behind Fund will provide Friends of Strays Animal Shelter with the means to help homeless dogs in our community who need additional support and resources in order to be adopted. The ultimate goal of this fund is to get Pinellas County's most vulnerable dogs into much deserved forever homes.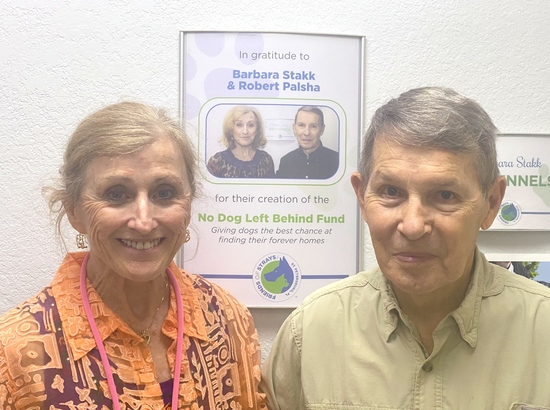 The No Dog Left Behind Fund will primarily focus on dogs who will benefit from additional training, behavior modification, or supplies in order to properly adapt to a home environment. "Some dogs have experienced emotional trauma at some point in their past, and often we don't know what happened," says Ms. Stakk. "They still deserve their happy endings. We can give every dog the best chance to find their home, no matter the issue."
Barbara Stakk has been a supporter of Friends of Strays, St. Petersburg's oldest no kill animal shelter, since 2010. Ms. Stakk has been sensitive to dog welfare issues her entire life, stemming from the love of her childhood dog, Tiny, who was the unwanted runt of her litter and suffered a traumatic leg injury when she was hit by a car at a young age. She also funded the renovation of Friends of Strays' Barbara Stakk K-9 Kennels in 2018. She chooses to put her support behind organizations who make the biggest impact, and was drawn to Friends of Strays by its proven track record of making a huge difference for homeless pets in our community. "There are so many wonderful animal charities out there," says Ms. Stakk. "I wish I could give to them all, but I have to pick what's near and dear to my heart, and that's been Friends of Strays."
"Friends of Strays is so grateful to Barbara for this incredibly generous gift," says Friends of Strays CEO, Dara Eckart. "Animals in the greatest peril are a priority for our organization, and as Pinellas County strives to reach no kill status, more shelter pets are coming in with behavior and emotional needs. This fund will allow us to give these dogs the second chance they deserve."
Those who wish to contribute to the No Dog Left Behind Fund can do so by visiting the donation page on the Friends of Strays website and selecting "No Dog Left Behind Fund - for dogs with special needs" from the dropdown menu.