Friends of Strays and COVID-19
Wednesday, April 22, 2020
April 1, 2020
***ADOPTIONS WILL BE BY APPOINTMENT ONLY WHILE WE ARE CLOSED DURING COVID-19***
If you are interested in adopting one of our animals, please follow these steps until further notice:
One of our adoptions counselors will contact you to set up an appointment. Please allow up to 48 hours for this.
Appointments will be scheduled Thursday-Sunday between 10:00-7:00.
For dogs only: If you are looking to adopt a dog and already have a dog at home, please bring them with you to your appointment.
March 26, 2020

the need to save homeless animals has not gone away and Friends of Strays will continue to be there for our community during this time. With health and safety our priority, we are working to service our most vulnerable animals in the following ways:
🐾 TNVR Services: Our medical team will continue Trap-Neuter-Vaccinate-Release for Pinellas County's community cats with the help of our partner, MEOW Now.


🐾 Reserve Kennel Space: We have offered our kennel space to our partner shelters, should they reach capacity.

🐾 Food Bank Donations: We will resume the collection of donations such as pet food, medication, & supplies to distribute at the St. Petersburg Free Clinic for our low-income community members.
At this time our facility will remain closed to the public as we try to do our part in slowing the spread of COVID-19. If you've found a lost or stray pet, please bring them to Pinellas County Animal Services.
March 21, 2020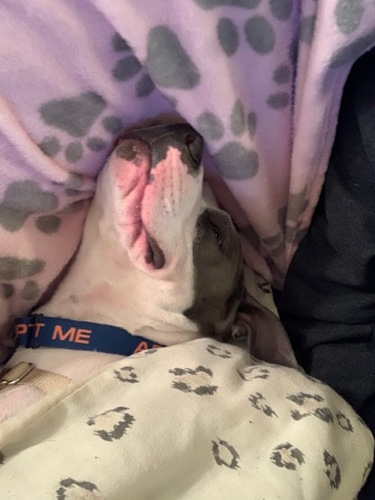 "It's time to hunker down!" - Fitz
Amid growing concerns surrounding COVID-19, Friends of Strays will be closing temporarily as of Monday, March 23.
If you've been thinking about adopting, stop by our adoption center before then and help us get these amazing cats and dogs into homes. All animals have their adoption fees waived.
We will be open today from 1:00-7:00 and 10:00-6:00 Saturday and Sunday. Our staff will be taking extra precautions to keep everyone safe, including limiting the number of people in our building at any given time.
If you would like to be added to our emergency foster list, please email [email protected]
You can view our available animals here.
If you ar unable to adopt, please consider making a donation to help us through this difficult time.
Offical FOS Statement on COVID-19
Friends of Strays understands the growing concerns surrounding coronavirus, COVID-19, across our community. We are closely monitoring the situation and following protocol as laid out by animal welfare expert agencies, the Center for Disease Control and the World Health Organization.
At FOS, our concerns are the safety of our pets, our staff, our volunteers, and our community. We would like to echo the statements of the CDC:
There is currently no known reason to believe that any animals, including pets in the United States, can contract or spread COVID-19.

To date, the CDC has not received any reports of pets or other animals becoming sick with COVID-19.

The CDC recommends following everyday preventive actions to help prevent the spread of illness, which includes washing your hands.
Friends of Strays follows proper protocol at our shelter in terms of the proper disinfection of our facility.
FOS recommends that, like in preparation for any disaster, you make plans that include your pet. A few steps you can take include:
Making a plan with your family and network that includes contingencies to care for your pet should you be hospitalized or otherwise unable to provide care.

Having a 3-week supply of pet food and necessities on hand.

Keep pet vaccinations up to date in case you must consider boarding.
As Floridians, many of us are used to taking these steps to prepare for hurricanes. Similarly, Floridians generously support shelters and pets in those times. This is one of those times and we need your help.
As our community is partaking in social distancing, we are expecting to see a drop-off in pet adoptions. Friends of Strays is taking a proactive approach to this situation and asking for your support with the following:
Foster Homes – We need emergency "on-call" fosters who are willing to care for dogs for a minimum of 14 days, if needed. We have dogs that can go home with other dogs, cats, and children. If you are willing to be an emergency foster, please email

[email protected]

with the subject "Emergency Dog Foster". Please include your phone number and list any pets in your home.

Adopt – If you are thinking about adoption, now is a great time! We are conducting adoptions by appointment indefinitely. To see our available animals, visit friendsofstrays.org/adopt.

Donations – As our adoptions numbers slow, our cost per animal increases and our income from adoption fees decreases. We need your support now more than ever to care for our animals and stock foster supplies. Please consider making a monetary donation

here

or donating items off of our

Wish List

.

Share – Please help us share the message of preparing for your own pets and that there is no connection between pets and the spread of COVID-19.
For more on pets and COVID-19, you can check out Can Dogs Get Coronavirus? What We Know So Far by Dr. Libby Guice, DVM.
Dr. Guise is a veterinarian advisor for FluentWoof.com. After working in private practice in Wisconsin for two years, she joined the USDA as a Veterinary Medical Officer. In 2011, she came home to focus on raising and teaching her adoptive daughter. She lives in Wisconsin with her daughter, husband, and two furbabie