Friends of Strays Haunted Howl Virtual Auction Is Now Live
Tuesday, October 26, 2021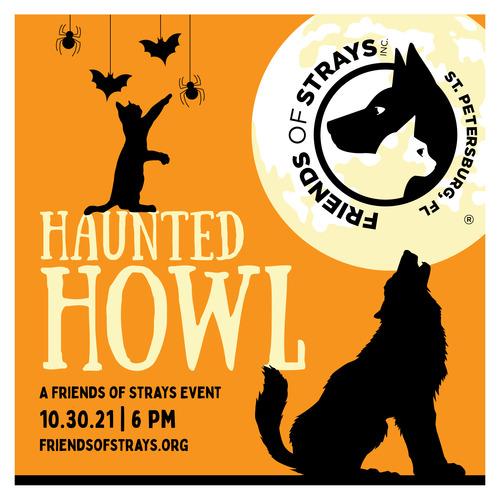 Friends of Strays, St. Petersburg's oldest no-kill animal shelter, holds its major annual fundraising event this week, the Haunted Howl Virtual Auction. This year's event is fully online and begins Tuesday, October 26 at 8 a.m. and ends Thursday, October 28 at 5 p.m. More than 50 items are on the auction block, ranging from vacations and experiences to pet supplies and unique artwork created by our dogs and cats.
Interested bidders can visit the auction page
here
to participate in the auction.
Some of the items available include:
One-of-a-kind framed paintings made by our dogs and cats here at the shelter.
A three-day staycation at House of the Sun, a two-bedroom, two-bathroom condo, in Siesta Key.
A private, after-hours date night at the shelter including a romantic picnic and snuggle time with our puppies and kittens.
The opportunity to name a puppy or kitten available for adoption.
Custom watercolor paintings by Friends of Strays CEO Dara Eckart.
Baskets filled with goodies from St. Petersburg businesses including St. Pete Brewing Company,
Mother Kombucha, the Tampa Bay Rays, and others.
In addition to auction items, supporters can also donate directly to our funds for animal food and medical supplies. Friends of Strays has averaged 341 surgeries per month in 2021. The medical supply fund will be matched up to $6,000 by one generous donor, offering a great chance for supporters to double their impact.