Giving Tuesday Now
#GivingTuesdayNow is a new global day of giving and unity that will take place on May 5, 2020 – in addition to the regularly scheduled Dec 1, 2020 #GivingTuesday – as an emergency response to the unprecedented need caused by COVID-19. #GivingTuesdayNow is designed to drive an influx of grassroots generosity, citizen engagement, business and philanthropy activation, and support for communities and nonprofits around the world. It's a day when we can all come together and give back in all ways, no matter who or where we are. The goal is to create a massive wave of generosity that lasts well beyond that day and touches every person on the planet.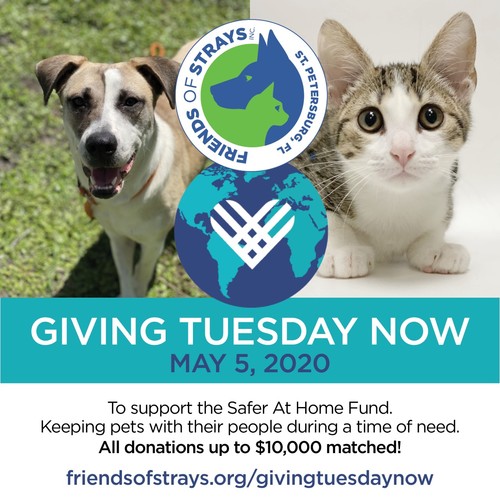 At Friends of Strays, we know one thing to be true – love saves lives. And we need your help now more than ever before. This year, Friends of Strays' goal is to raise $10,000 to support our new Safer At Home Fund. The Safer At Home Fund will provide those who are unable to care for their pets due to loss of income with an alternative to surrendering their animal to a shelter. We have partnered with Operation: SNIP, a spay/neuter and wellness veterinary clinic, and Pet Food Warehouse, a pet supply store, to provide veterinary care and pet supplies at no cost to Saint Petersburg residents who are out of work due to COVID-19.
Friends of Strays will be matching all gifts up to $10,000 -- So every dollar has double the impact!
Read more about Friends of Strays' new Safer At Home Fund here. If you love animals and you love our community – we need you!
"Our Safer At Home Fund is designed to prevent beloved pets from entering shelters by providing options and assistance," says Friends of Strays CEO, Dara Eckart. "This is an unprecedented time for all of us, and nobody should have to worry about giving up their animal on top of so much uncertainty. The benefits of this new program are two-fold: our community members get the support they need to care for their pets, and it eases the burden on shelters by helping to keep animals at home. We hope this fund will help ease the stress of our community during this crisis."

So take the Giving Tuesday Now pledge for Friends of Strays! Mark your calendars for Tuesday, May 5 and help us spread kindness and generosity.
Even as we practice physical distancing, we can remain connected through kindness and generosity even without physical proximity. There is no reason that our physical separation means we can't provide the financial, emotional and social supports that nurture our families and communities.

Be sure to follow Friends os Strays on social media on Giving Tuesday Now for some fun live events with our cats and dogs!