Find the Dino: Saturday, Aug. 27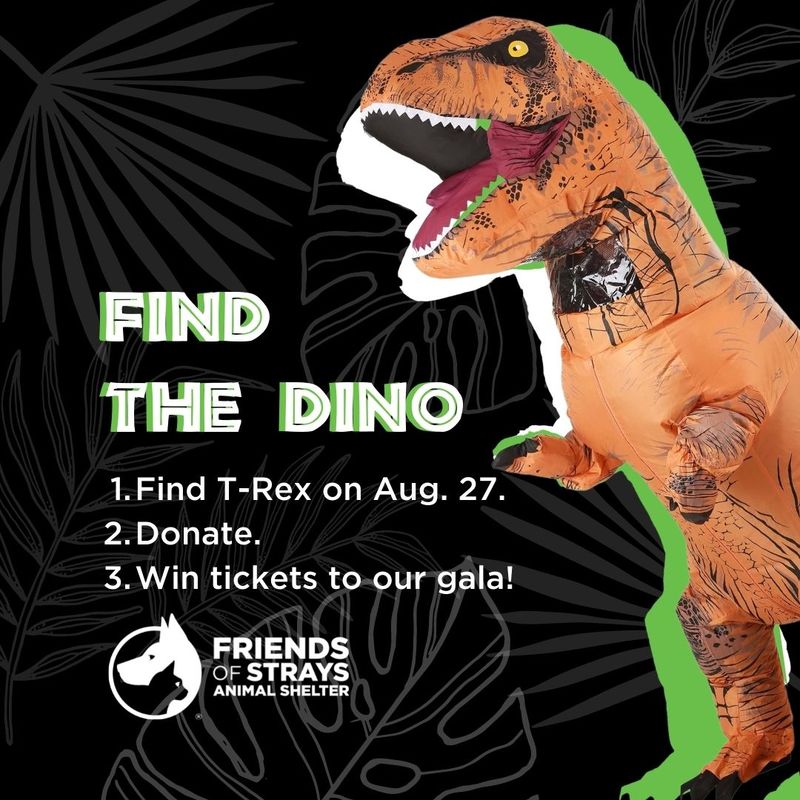 Saturday, August 27, 2022
Location: 2200-2400 Block of Central Avenue
Price: $10
It's the opposite of hide and seek: a T-Rex will be hiding the Grand Central District, and you're on a mission to find it!

Use those paleontologist skills to sleuth out the secretive lifesized dino lurking at an establishment on the 2200-2400 block of Central Avenue from 2-4 p.m. Saturday, Aug. 27. Donate to Friends of Strays when you find it and you'll be entered to win TWO tickets (a $250 value!) to our annual gala, Wags & Whiskers: Jurassic Bark! The first donor of the day will get a free drink, and we'll be giving away Friends of Strays swag throughout the event time, too. If you're having a tough time finding us, we'll be posting clues on Facebook and Instagram on the day of the event! Our dino will be accompanied by a volunteer or staff member to help take donations -- and to make sure no one becomes a meal!

Every $10 is one entry into the drawing, so the more you donate the more times you'll be entered to win.

Why should you want to win tickets to our gala? Our annual fundraiser is a fun, one-of-a-kind event with two goals: have a great time, and help us raise money to support our mission - no black tie required.
More about our gala:

Get ready for the most epic party of the Jurassic era! This year's theme, Jurassic Bark will be a one-of-a-kind event in the tropical Sunken Gardens on the evening of Saturday, Oct. 15, 2022. Join us for a night of free food, drink, and entertainment. You may even get to meet a dinosaur! Dress code? Safari- or jungle-chic, or a costume -- highly encouraged! Besides a live band and delicious food, we'll have other fun activities including silent and live auction items, giveaways, and more.

Wags and Whiskers is our largest fundraiser of the year and is vital to our organization, providing much-needed support for daily operations and special projects. Thank you in advance for supporting our mission of ending pet homelessness in Pinellas County and beyond.