Goats and Gulps
Saturday, November 9, 2019
Location: Cage Brewing
Price: $30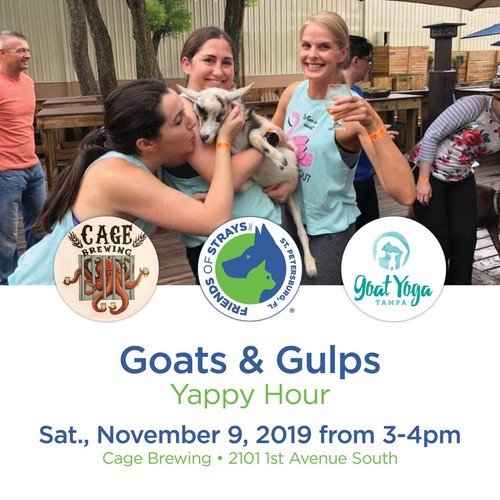 The first one was so popular we had to do it again! Join us for an afternoon of craft beer and hangin with goats! Friends of Strays will be taking over the beer garden at Cage Brewing for Goats and Gulps Happy Hour!
WHAT: Goats and Gulps
WHEN: Saturday, November 9, 2019, 3:00-4:00
WHERE: Cage Brewing,
2001 1st Ave S, St. Petersburg, FL 33712
It's not every day you get the chance to enjoy some delicious Cage pints while snuggling up to goats! Goat Yoga Tampa will provide the goats, Cage will provide the beer, you just come and enjoy! All proceeds benefit Friends of Strays.

There are limited spots available so secure your place now! Tickets cost $30 and include one beer.
Children are welcome, but will need to purchase a ticket. And please, no more than two kids under the age of 10 per adult.