Queen Bee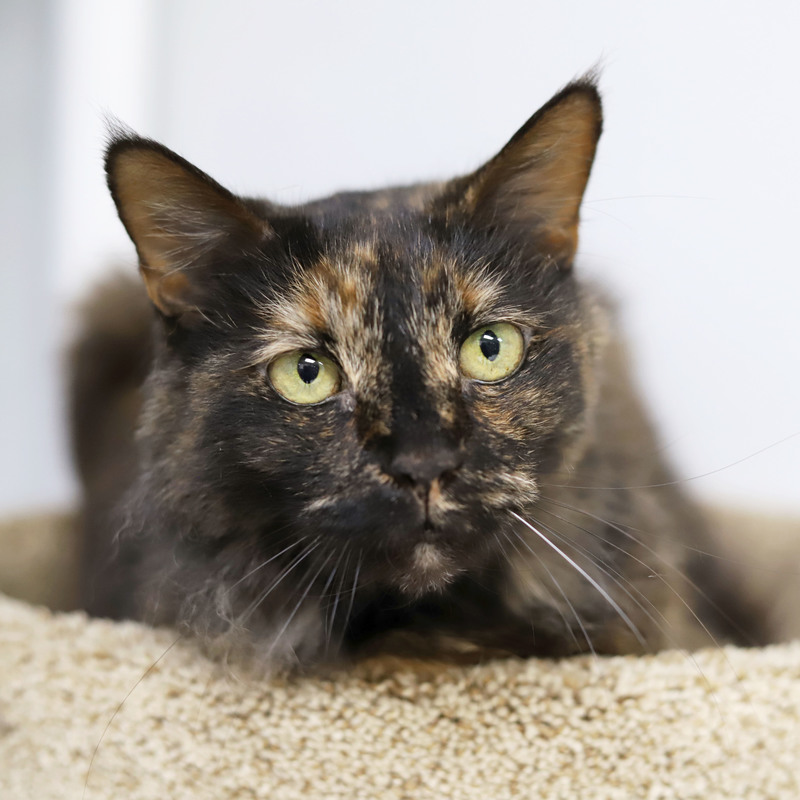 Tuesday, June 14, 2022
Queen Bee is our longest resident. She's been waiting five months for her forever home.
This beautiful tortie can get stressed out in the shelter environment, so she went to a foster home to decompress.
Having a home to herself has helped her tremendously. She has blossomed into a fun, friendly feline.
If you're interested in adopting Queen Bee,
fill out an adoption application
so we can set up a meet and greet.
Her foster parents have gotten to know the whims of their beautiful ruler in the last few weeks, and wrote this about her!
"Hi, I'm Queen Bee. I'm a beautiful, healthy, fun, and friendly 12-year-old Tortie girl, and I'm a great roommate! I know, I sound like I'm bragging, but I've got a lot of experience living with humans and it's something I'm just really good at. I'm never afraid of anything, I'm super curious about what's going on around me, and most of all, I like to just chill and hang out. I love my fluffy coat being brushed out and getting cheek scratches. My favorite forms of entertainment are window watching and playing in bags or boxes that you forgot to put away! I'm fascinated by the mysteries of the fridge and what lies beyond a closed door. I like playing with strings and dangly things too, but I'm careful not to play too rough. Napping is also a daily passtime, and I prefer not to be disturbed while I'm getting my beauty sleep! My name is Queen Bee for a reason; I like to rule the roost. I would prefer to be the only royalty in my forever home."
Now back at the shelter, our Happy Cats Crew spends time with her every day to make her feel safe and loved, but the shelter is not her favorite place to be. Queen Bee is ready to find her forever castle and dutiful humans to serve her!