Oreo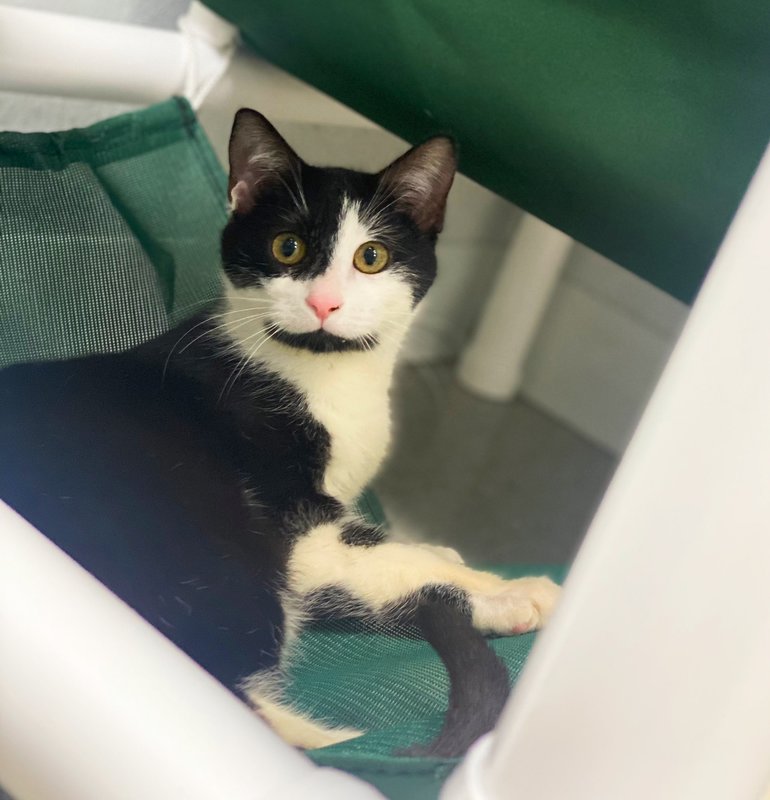 Saturday, May 1, 2021
Oreo
Domestic Shorthair

Estimated DOB: 09/25/2020
This Foster Appreciation Month, we'd like to take the opportunity to spotlight adoptable kitten Oreo, and his foster superhero, Heather.
Oreo arrived at Friends of Strays at a young age after he was found with three other kittens living in one small cage. These kittens had sores on their legs and yellowed fur from living in unsanitary conditions. Oreo was understandably shy and nervous at first. He spent his time hiding in the back of his kennel, cowering in fear at any prospect of human interaction. The shelter setting was no place for a kitten like Oreo, so we sent him off to foster care with our foster superhero, Heather.
Now that he's had time to decompress in a home environment, Oreo's personality has blossomed! He's turned into quite the snuggle bug, joining Heather in bed every night and often hunting for a lap for nap time. He even loves wand toys and jumps on any opportunity to play with his people. This resilient boy proves what the magic of love and patience can accomplish.
To meet Oreo, call 727-522-6566 ext 101 or fill out an online application here.
Animals that are fostered for any period of time often find their permanent homes quicker as they're able to show off their personality outside of the stresses of life in a shelter. Our foster program helps reduce overcrowding in the shelter and opens up space for another animal to be saved. Our foster families are an integral part of the Friends of Strays operation and we can't thank them enough for helping animals enjoy the life they deserve. If you're interested in becoming a foster superhero for Friends of Strays,
click here
.